We know first hand that surgical procedures add to the difficulty of a cancer diagnosis. It adds new complexities, in spite of being critical to the patient's survival.
Often, surgeons implant surgical tubing with a suction bulb attached in order remove fluids that might compromise recovery. These drain bulbs are often a surprise to patients, and then their size and long tubes become annoying and painful during the duration — often one or two weeks, sometimes much more.
Surgical attending nurses will provide a safety pin or clothespin-type clip as a way to suspend drains for the recover period.
Cancer survivor Cinde Dolphin created the Kili Medical Drain Carrier.
It's a pouch that fits around a patient's waist after an operation, allowing them a comfortable alternative to storing tubing and medical drains, minus the hassle of pinning those tubes to a hospital gown or clothes.
Sacramento Business Journal journalist, Victor Patton, interviewed Cinde: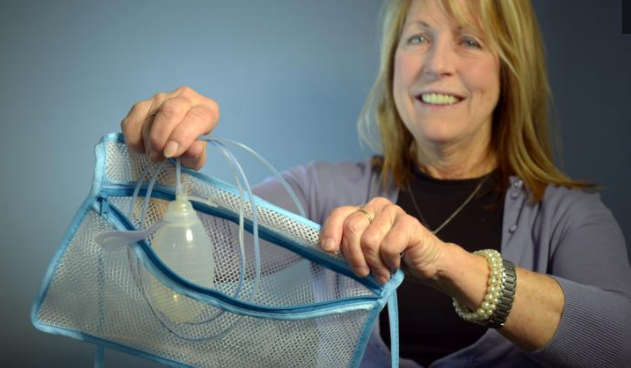 These simple and inexpensive mesh aprons give tremendous relief to post-surgical patients. The Kili Carrier increases mobility and as a result, reduces recovery time. A patient can change clothes, bathe and sleep much easier when drains are safely suspended in the pouch.
If you know someone scheduled for surgery, that might include dealing with medical drains, the Kili Carrier is a welcome and invaluable gift. Carriers are shipped via priority mail and arrive within approximately 48 hours of ordering. More details here.